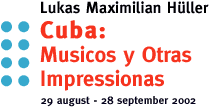 The mix of sadness, joy of life, anticapitalism, corruption, followers, opponants, catholicism, different skin colors, country adoration, country hatred, ….all these contrasts are included within the unending momentum of the rythm of the music, from Salsa to Son, simply reunited or maybe forgotten.
"A fascination which pushed me to approach some of the thousands of musicians which help provide people some freedom , by clearly outing critics through the lines of their lyrics, and which eventually allowed this communistic bastion located in the middle of the Caraibs and just in front of the Miami beaches to become increadibly popular".
The serie "Cuba y sus Musicos" was created over several months. It includes panoramic views portraying musiciens, people and their country, allowing the viewer to discover the actors and their surrounding in all their details.