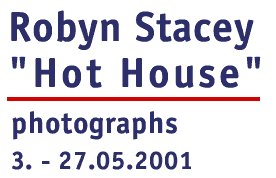 Robyn Stacey lives and works in Sydney, Australia.
She has been exhibiting her photographic work since 1985 and working with digital imaging since 1989. Her interest has always been in the graphic application of photography particularly photomontage.
She has exhibited her work in Tokyo, London, Berlin and Amsterdam She is represented by Stills gallery in Sydney (www.stillsgallery.com.au), Karyn Lovegrove gallery in Los Angeles, and gallery WM in Amsterdam.