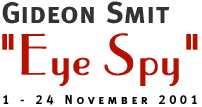 Equipped with an antique mini-format Minox camera, Gideon Smit (Wales 1968), embarked on his year long photographic essay in the summer of 2000.

Based in a small rented room in the suburbs of Amsterdam, Smit intermingles a daily routine of commuting, work and bars with his travels to other countries, in search of new inputs. He records himself, as well as the people, places and situations he encouters along the way, and what emerges is a rich tapestry of impressions.

The self portraits play a central role; Smit is a guide who is bewilderd by a world filled with contradictions and diversity; he is looking for his own place and role in it.